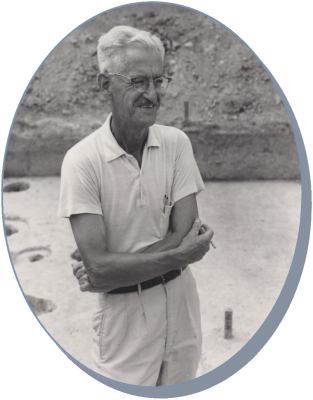 Thursday, February 9, 6:00 p.m.
Willard Library Browning Gallery
21 First Avenue◊Evansville, Indiana 47710
Using newly-acquired images and artifacts, Mike Linderman, Western Regional Manager for Indiana State Historic Sites, will discuss the work of  Glenn Black , a pioneering archaeologist who conducted several decades of scientific excavations at Angel Mounds before his death in 1964.
This event will be only the second time the items have been shown publicly, with many new ones added since the first program. Several of their personal items will be on display, many from their home at Angel Mounds.
This program is sponsored by Willard Library, the Vanderburgh County Historical Society, and Angel Mounds; it is free and open to the public, but reservations are appreciated; to register, visit www.willard.lib.in.us or call (812) 425-4309, ext. 117.
The Personal Side of Glenn Black:  Indiana's Archaeologist Revealed
In 2015 a large collection of Glenn and Ida Black's personal items were offered to the Indiana State Museum and Historic Sites from a Great-Niece living in Indianapolis.  Earlier attempts to find their personal belongings came up with a story of all of it being destroyed and thrown away.  What was found were over 1,700 images on photos and slides of their lives, the first time that any of them had ever been seen outside of the family.  The photos and slides document their time at Angel Mounds, time with their families before moving to the site and trips with Eli and Ruth Lilly across the country.