The Vanderburgh County Historical Society Annual Meeting and luncheon will be at 12:45 PM on Saturday, November 4, 2017 in the GAR room of the Sailors and Soldiers' Memorial Coliseum at 300 Court St, Evansville, IN 47708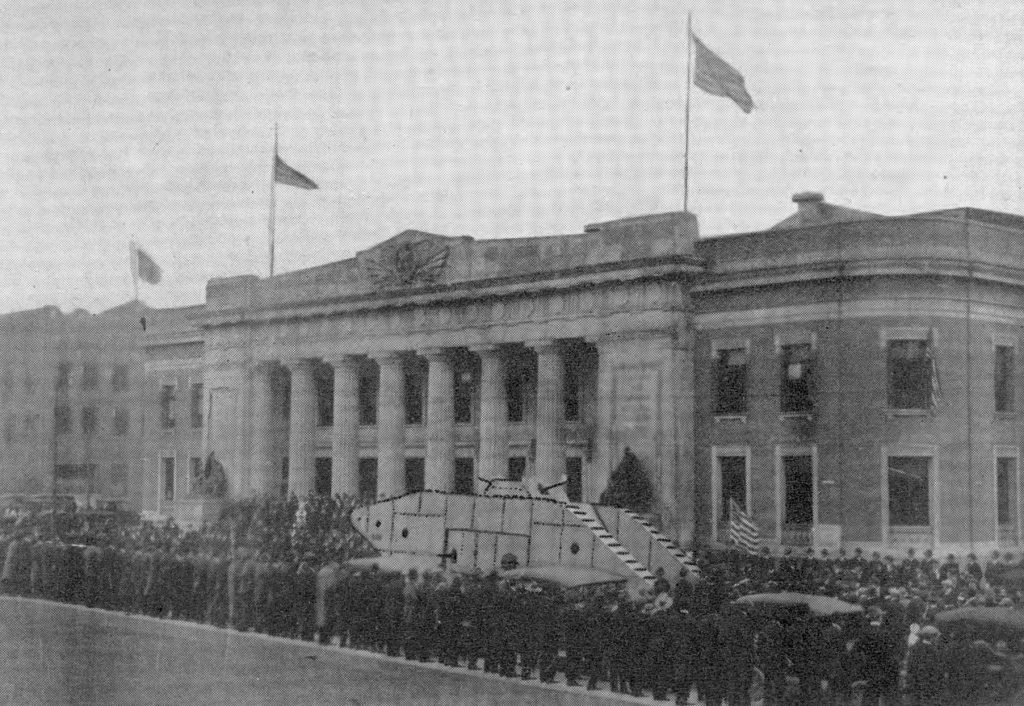 Our featured speaker is Dr. James MacLeod whose program is titled "In Honor of Those Who Served"; American Memorials of the First World War . The First World War was one of the most significant events of the last 200 years, killing 18 million people and wounding a further 23 million. In many ways it shaped the modern world. It is marked by tens of thousands of memorials around the world, and some of the most dramatic of these are in the Midwest of the United States. In this illustrated lecture, Dr MacLeod will discuss the history of war memorialization and examine some of the most remarkable of America's war memorials.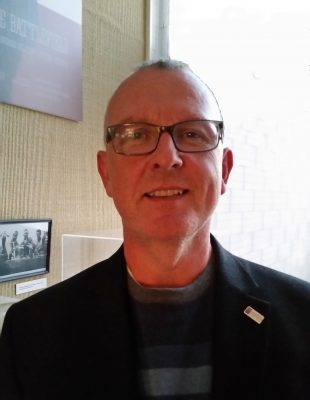 Dr James MacLeod, Professor of History, University of Evansville
Dr James MacLeod was educated at the University of Edinburgh in Scotland, receiving an MA in 1988 and a PhD in 1993. Since 1994 he has been a member of the History Department at UE, where he teaches courses in European History and the two World Wars. Dr MacLeod is the author of Evansville in World War Two, which was published in 2015, and The Cartoons of Evansville's Karl Kae Knecht, published in February 2017. In 2016 he wrote and co-produced a 2-part documentary on Evansville in World War II for WNIN entitled Evansville at War. In 2000, he published a book on 19th-century British religion, The Second Disruption, and has also written over 20 other scholarly publications. He has won many awards for his teaching and scholarship, and was UE's Outstanding Teacher in 2009. James is also an award-winning cartoonist and his editorial cartoons have appeared in the Evansville Courier and Press and the Henderson Gleaner, as well as many other outlets. He serves on the Boards of the Vanderburgh County Historical Society, the Southwestern Indiana Historical Society, and the Evansville Museum of Art, History and Science.
The program is free and open to the public; however, seating is limited so  please tell us you are coming at info@vchshistory.org. The Bauerhaus luncheon detailed below costs $30 person and precedes Dr. MacLeod's presentation.
VCHS Schedule for the Annual Dinner
12:30 to 12:45 — general meeting of the VCHS membership to elect Board members and officers
12:45 to 1:00 — Tom Lonnberg, Curator of History at the Evansville Museum of Arts, History, and Science and Joe Engler, site creator and webmaster of http://www.historicevansville.com/, will do a joint presentation on the background of the Coliseum and James Bethel Gresham. Gresham was a native of Evansville and is considered the first US soldier killed in WWI.
1:00 to 1:45 — Luncheon catered by Bauerhaus. Menu: country fried chicken, burgundy tenderloin beef tips, garlic smashed potatoes, country style green beans, tossed salad with dressing, dinner roll, and dessert (assortment of cheesecake), plus iced tea, coffee (regular and decaf), and lemonade.
The cost for the luncheon is $30 per person, payable by PayPal below or by sending a check for the cost of the lunch to VCHS, C/O Terry Hughes, 706 Sunset Avenue, Evansville, IN 47713.
1:45  "Democracy's Love Song" — — sung by Renee Rink (Hear her now for free; some day you will have to pay to hear her sing).
1:45 to 2:45 presentation by Dr. James MacLeod: "In Honor of Those Who Served"; American Memorials of the First World War
2:45 onward: Possible tour of the Coliseum conducted by Mark Acker.
Payment for the Luncheon at the Annual Meeting:
You may pay via the PayPal link below. The link should take you to a menu specific to the annual luncheon.
If you go to the PayPal sign in, sign in to your PayPal account and send money to info@vchshistory.org , $30 per person for lunch. Be sure to leave a comment about the VCHS Lunch and the number of persons.
If PayPal is too difficult, email thughes5109@gmail.com and and tell Terry how many reservations you would like. You can pay at the door on Saturday, November 4th.