EVANSVILLE HISTORIC PRESERVATION MONTH
Evansville's Department of Metropolitan Development, Preservation Alliance of Evansville, and the Reitz Home Museum present a full slate of lectures, tours, activities, and events.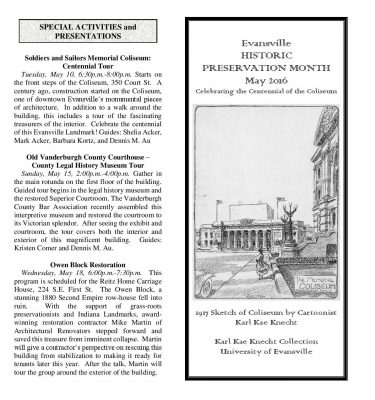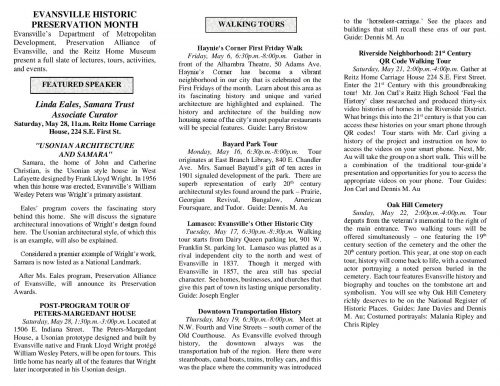 ---
Linda Eales, Samara Trust
Associate Curator
Saturday, May 28, 11a.m. Reitz Home Carriage House, 224 S.E. First St.
"Usonian architecture
 and SAMARA"
     Samara, the home of John and Catherine Christian, is the Usonian style house in West Lafayette designed by Frank Lloyd Wright.  In 1956 when this house was erected, Evansville's William Wesley Peters was Wright's primary assistant.
    Eales' program covers the fascinating story behind this home.  She will discuss the signature architectural innovations of Wright's design found here.  The Usonian architectural style, of which this is an example, will also be explained.
    Considered a premier example of Wright's work, Samara is now listed as a National Landmark.
   After Ms. Eales program, Preservation Alliance of Evansville, will announce its Preservation Awards.
---
Post-Program Tour of
Peters-Margedant House
     Saturday, May 28, 1:30p.m.-3:00p.m. Located at 1506 E. Indiana Street.  The Peters-Margedant House, a Usonian prototype designed and built by Evansville native and Frank Lloyd Wright protégé William Wesley Peters, will be open for tours.  This little home has nearly all of the features that Wright later incorporated in his Usonian design.
---
Haynie's Corner First Friday Walk
     Friday, May 6, 6:30p.m.-8:00p.m.  Gather in front of the Alhambra Theatre, 50 Adams Ave.  Haynie's Corner has become a vibrant neighborhood in our city that is celebrated on the First Fridays of the month.  Learn about this area as its fascinating history and unique and varied architecture are highlighted and explained.  The history and architecture of the building now housing some of the city's most popular restaurants will be special features.  Guide: Larry Bristow
---
Bayard Park Tour
     Monday, May 16, RESCHEDULED Tuesday, May 24, 6:30p.m.-8:00p.m.  Tour originates at East Branch Library, 840 E. Chandler Ave.  Mrs. Samuel Bayard's gift of ten acres in 1901 signaled development of the park.  There are superb representation of early 20th century architectural styles found around the park – Prairie, Georgian Revival, Bungalow, American Foursquare, and Tudor.  Guide: Dennis M. Au 
---
Lamasco: Evansville's Other Historic City
    Tuesday, May 17 RESCHEDULED Wednesday, May 24, 6:30p.m.-8:30p.m. Walking tour starts from Dairy Queen parking lot, 901 W. Franklin St. parking lot.  Lamasco was platted as a rival independent city to the north and west of Evansville in 1837.  Though it merged with Evansville in 1857, the area still has special character.  See homes, businesses, and churches that give this part of town its lasting unique personality. Guide: Joseph Engler 
---
Downtown Transportation History
    Thursday, May 19, 6:30p.m.-8:00p.m.  Meet at N.W. Fourth and Vine Streets – south corner of the Old Courthouse.  As Evansville evolved through history, the downtown always was the transportation hub of the region.  Here there were steamboats, canal boats, trains, trolley cars, and this was the place where the community was introduced to the 'horseless-carriage.' See the places and buildings that still recall these eras of our past.  Guide: Dennis M. Au
---
Riverside Neighborhood: 21st Century
QR Code Walking Tour
     Saturday, May 21, 2:00p.m.-4:00p.m. Gather at Reitz Home Carriage House 224 S.E. First Street.  Enter the 21st Century with this groundbreaking tour!  Mr. Jon Carl's Reitz High School 'Feel the History' class researched and produced thirty-six video histories of homes in the Riverside District.  What brings this into the 21st century is that you can access these histories on your smart phone through QR codes!  Tour starts with Mr. Carl giving a history of the project and instruction on how to access the videos on your smart phone.  Next, Mr. Au will take the group on a short walk.  This will be a combination of the traditional tour-guide's presentation and opportunities for you to access the appropriate videos on your phone.  Tour Guides: Jon Carl and Dennis M. Au
---
Oak Hill Cemetery
     Sunday, May 22, 2:00p.m.-4:00p.m. Tour departs from the veteran's memorial to the right of the main entrance. Two walking tours will be offered simultaneously – one featuring the 19th century section of the cemetery and the other the 20th century portion. This year, at one stop on each tour, history will come back to life, with a costumed actor portraying a noted person buried in the cemetery.  Each tour features Evansville history and biography and touches on the tombstone art and symbolism.  You will see why Oak Hill Cemetery richly deserves to be on the National Register of Historic Places.  Guides: Jane Davies and Dennis M. Au; Costumed portrayals: Malania Ripley and Chris Ripley
---
Soldiers and Sailors Memorial Coliseum: Centennial Tour
Tuesday, May 10, 6:30p.m.-8:00p.m. Starts on the front steps of the Coliseum, 350 Court St.  A century ago, construction started on the Coliseum, one of downtown Evansville's monumental pieces of architecture.  In addition to a walk around the building, this includes a tour of the fascinating treasurers of the interior.  Celebrate the centennial of this Evansville Landmark! Guides: Shelia Acker, Mark Acker, Barbara Kortz, and Dennis M. AuSoldiers and Sailors Memorial Coliseum: Centennial Tour
---
Old Vanderburgh County Courthouse – County Legal History Museum Tour
    Sunday, May 15, 2:00p.m.-4:00p.m. Gather in the main rotunda on the first floor of the building. Guided tour begins in the legal history museum and the restored Superior Courtroom. The Vanderburgh County Bar Association recently assembled this interpretive museum and restored the courtroom to its Victorian splendor.  After seeing the exhibit and courtroom, the tour covers both the interior and exterior of this magnificent building.  Guides:  Kristen Comer and Dennis M. Au.
---
Owen Block Restoration
Wednesday, May 18, 6:00p.m.-7:30p.m.  This program is scheduled for the Reitz Home Carriage House, 224 S.E. First St.  The Owen Block, a stunning 1880 Second Empire row-house fell into ruin.  With the support of grass-roots preservationists and Indiana Landmarks, award-winning restoration contractor Mike Martin of Architectural Renovators stepped forward and saved this treasure from imminent collapse.  Martin will give a contractor's perspective on rescuing this building from stabilization to making it ready for tenants later this year.  After the talk, Martin will tour the group around the exterior of the building.
---